Biography ...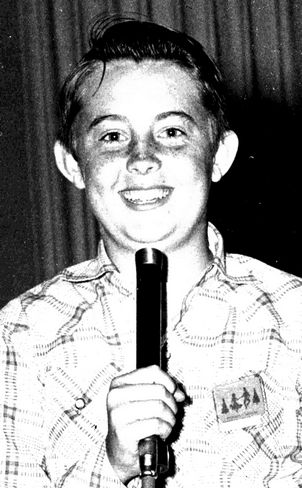 DENNIS CALLING
AT AGE 13
Dennis has been a square dancer since 1958, but not knowing it, began apprenticing to be a caller in 1957. He called his first song "Call Me Up" in July 1957 at a summer potluck for a local club, the Belles & Beaus. That's right, Dennis started calling before he danced. Stepping up to a mic and calling his first song was all it took for him to get the "bug" to be a caller. Dennis has been calling so long that he has vivid memories of using 78 records to call by, and many of his 78 records have never felt a needle of a record player, and are still in the original record sleeves.

Since those early beginning years, Dennis now receives many requests to perform one of his "yodeling" songs and most recently, his "Gasoline" song. Clips of these songs are posted on YouTube for you to enjoy. He joined Callerlab in 1981 and has been a continuing member since joining. He also is an Accredited Caller and serves on the Plus Committee. Dennis was honored and presented a 50th year calling award at the Callerlab Convention in Colorado Springs, Colorado on Tuesday, April 3, 2007. Dennis is the youngest caller to date to have received this honor and award. Dennis also is a member of the Southern Arizona Callers & Cuers Association (SACCA) based in Tucson, AZ.

Dennis also one of the featured callers for the Rim Rompers in Show Low, Arizona calling several times a year.Over the years, Dennis has called for and or instructed for clubs and festivals in many states, including Colorado, Hawaii, Illinois, Iowa, Kansas, Minnesota, Nevada, New Mexico, Tennessee, Texas, and Wisconsin. He has even called in Bahia Kino, Mexico. Dennis was also a regular programmed caller for the Palomar Jamboree by the Sea in Southern California for 16 years (1982-1998). He has also been the featured caller for the No-Ka-Oi Square & Round Dance Festival in Maui, Hawaii and has called many Colorado State Festivals that are held in June each year. Dennis travels during the summer on his annual calling tour calling around Iowa, Minnesota, and Wisconsin while visiting his daughter and grandchildren. Then calls dances in Colorado on his travels home.

Dennis met his wife, Terese Moriak in 1989 when she was his "beginner class coordinator" for the Liberty West Square Dancers in Phoenix. They married April 21, 1990. Terese supports Dennis's calling activities and travels to many of his calling engagements. Dennis & Terese are looking forward to seeing you across the square at one of their dances, and as Dennis would say, "HAPPY DANCING".